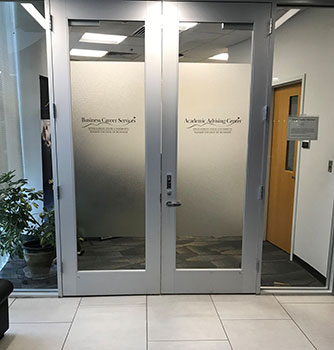 The Walker College of Business Academic Advising Center is a centralized advising center staffed by professional advisors and records specialists who serve current and prospective BSBA majors, BA-Economics majors and other students taking business courses at Appalachian State University.
Students can visit the center for assistance with:
Academic planning
Registration assistance
Senior checks
---
Important Dates
All dates subject to change.
December 5 - 11 Final Exams
December 13 Commencement Ceremonies

Spring 2021
January 13 First Day of Classes
January 17 Last Day of Drop/Add
January 20 State Holiday No Classes
March 9 - 13 Spring Break

March 23 Last Date to Drop Full-Semester Class

April 1 - 15 Early Registration
April 10 State Holiday No Classes
April 29 Last Day of Classes
April 30 Reading Day
May 1 - 7 Final Exams
May 8 - 9 Commencement Ceremonies



How to Find the WCOB Advising Center
The WCOB Academic Advisng Center is located directly across from the elevators on 2nd floor Peacock Hall. We share the suite with Business Career Services. Come through the glass doors and check in with the student at the podium, or walk around to the right and speak to the person at the front desk. Appointments are required except on designated walk in dates. Please see the link to the left to make an appointment. We look forward to seeing you soon!