Advising Available via Phone
Due to the university's guidance to transition from in-person instruction, we will not conduct face-to-face advising until further notice. Instead we will be conducting advising via phone. To reach personnel in the WCOB Advising office, please call 828-262-2700 or email.
Important Dates
All dates subject to change.
Summer 2020
May 27 Last Day to Add/Drop First Summer Course
June 26 Last Day of First Summer Session
July 1 Second Summer Session Begins
July 2 Last Day to Add/Drop Second Summer Course
August 4 Last Day of Second Summer Session


Fall 2020
August 17 First Day of Fall Semester
August 21 Last day to Add/Drop Fall Course
Advising Center Services to Continue Remotely
Our office is ready and waiting to help you. We have just temporarily begun working from home as recommended by the university.
For advising appointments, please use the yellow button to the left to schedule phone advising.
For other questions or issues related to our services:

Call 828-262-2700: If we do not answer, leave a message and someone will get back to you soon.
Or email: cobadvising@appstate.edu

We hope you and your loved ones stay healthy and safe and that you are transitioning well to the online formats in your classes. Our thoughts are with you!
How to Find the WCOB Advising Center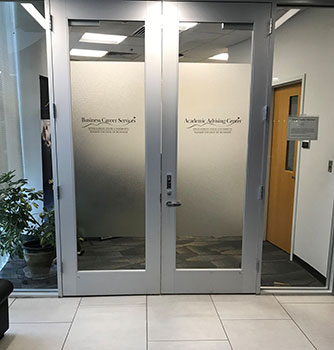 We look forward to meeting with you in person once things get back to normal. For now, please call or email.
The WCOB Academic Advising Center is located directly across from the elevators on 2nd floor Peacock Hall. We share the suite with Business Career Services. Come through the glass doors and check in with the student at the podium, or walk around to the right and speak to the person at the front desk. Appointments are required except on designated walk in dates. Please see the link to the left to make an appointment. We look forward to seeing you soon!
The Walker College of Business Academic Advising Center is a centralized advising center staffed by professional advisors and records specialists who serve current and prospective BSBA majors, BA-Economics majors and other students taking business courses at Appalachian State University.
Students can visit the center for assistance with:
Academic planning
Registration assistance
Senior checks
---